The accumulation of statistical evidence in the Policy Data Lab
We have established a Policy Data Lab to facilitate rigorous, data-driven policy research. Working closely with research fellows, Lab members will collect and analyze both quantitative and qualitative data, undertake social and other experiments, and apply machine learning in conducting big data analysis.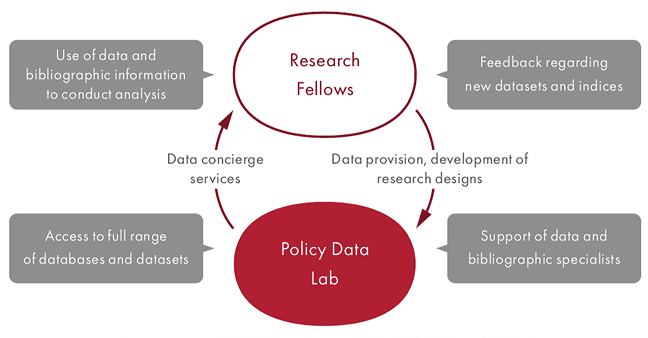 Mission
The Policy Data Lab supports rigorous, theoretically sound, data-driven policy research from both the qualitative and quantitative angles. In addition to offering research fellows access to a rich array of databases, members of the Data Lab engage in hands-on, interactive facilitation, collecting, organizing, and preparing datasets and undertaking research into various types of experiments and surveys. The Data Lab will also independently develop and publish original datasets.
Profile
Staff
The Policy Data Lab will employ a professional staff of data scientists, data librarians, data analysts, and other specialists.
Databases
Among the fullest array of social scientific databases of any research institute in the world will be made available to facilitate policy research, accessible to research fellows via an internal portal site.
Hands-on Support
Data Lab staff members will:
・Collect and organize data and other materials, conduct primary data analysis, and provide visualization support in response to requests from research fellows.
・Help design and implement large-scale surveys and facilitate research involving machine learning or text mining.
・Prepare facilities for laboratory, survey, and other experiments, offering support from the crafting to implementation stages.
・Participate as a joint researcher depending on the nature of the research project.
Original Databases and Indices
In addition to meeting requests from research fellows, the Data Lab will also independently develop original databases and indices.