September 29,2011
Ambulances for India: (2) New York
New York Training Schedule (second half)
Week 5: Empathy: Learning to Listen
Week 6: Business Tools for Poverty Alleviation: Building Your Toolbox
Week 7: Becoming an Influencer: Communicating Your Mission, Vision and Story
Week 8: Investors Gathering
Lessons in Leadership
Where the first half of the New York leadership program focused on introspection, the second half was aimed at providing the practical tools and skills we would be able to use right away in the field. Rather than listening to lectures, the program emphasized the world outside the classroom, learning through experience and through unstructured discourse with our trainers. This style was new to me, and at times I felt a bit lost. But the experience left a deep impression on me, and I would like to share two things that were especially eye-opening.
Storytelling
Acumen places great value on storytelling, and several instructors were invited to work with the fellows. In the "leadership presence" workshop, led by members of the Ariel Group, we practiced telling stories using (slightly overdramatic) acting techniques. In subsequent sessions with performance poet John G. Rives and TED curator Chris Anderson, the fellows took turns presenting stories improvised on the spot, and received feedback both from the trainers and other fellows.
The experience forced me to flex "muscles" I had rarely used and gave me the confidence that creativity, the power to connect with an audience, and the ability to inspire and fascinate were all latent within me. (I believe this to be the case with everyone.)
The keys to good storytelling, I found, were (1) a clear, loud voice and (2) drawing from personal experiences. Speaking clearly not only made things easier for others to hear but created a positive feedback loop that bolstered my confidence. (I wrote a short piece on voice that you can read here: Rising Pyramid: Be the Last One to Define You .)
Fleshing out a story with examples from your own life can create a more personal and emotional bond with listeners. During practice, especially when improvising, I discovered that I had an unconscious habit of avoiding personal details. This was one of the biggest barriers I faced while preparing my final presentation for the Investors Gathering on the final day of training in New York. During the two weeks before our presentations, we practiced and got feedback and advice from [Acumen CEO] Jacqueline [Novogratz], members of Acumen's management and staff, and from other fellows. The advice all of the fellows—myself included—received was "be more personal!"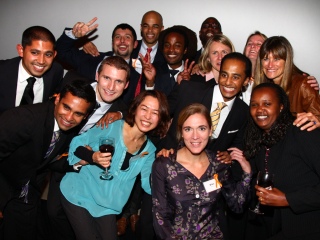 Being personal is closely tied to one of the things we learned in the first half of training: be vulnerable. In preparing our presentations before the Investors Group, the fellows repeatedly discussed one another's speeches. I don't know how many versions I wrote, discarded, and then rewrote. It was the support and confidence we gave to one another that allowed us to get on stage and share personal experiences we wouldn't normally talk about. Opening myself to the audience, I could feel that they were with me. I was delighted that a number of people made their way through the crowd after the program to tell me they empathized with me, that they had the same anxieties, and that I had their support.
Leaders and Role Models
In the second half of the training in New York, we were given opportunities to speak with highly successful leaders, including Tom Barry (CEO, Zephyr Management L.P.), Bill Mayer (chairman emeritus, Aspen Institute), Carlos Dominguez (senior vice president, Cisco), Tim Brown (CEO and president, IDEO), and Anthony Romero (executive director, American Civil Liberties Union). They talked about their upbringing, the courses their careers took, how they developed their ideas about leadership, and how those ideas have changed over the years. All were extremely candid and personal in their discussions and revealed a great deal about their leadership philosophies and styles. Their presentations prompted me to ask these questions of myself as well.
Bill Mayer said something that struck me as especially meaningful. He was asked whether he'd ever doubted he had the ability to lead or wondered whether he could be of service to society. He noted that everyone probably has something they've been doing their entire lives—during their years at home, at school, and at work—that they like and that they've gotten very good at. For Mayer, that was "figuring things out by myself." After a while, it became second nature, and he found himself being asked to become a leader no matter where he went.
Just as the trainers had been saying from day one, there are as many leadership styles as there are leaders. There's no need to compare and no need to "act like someone else." You should just keep doing what you're capable of and enjoy doing, and the results will naturally follow. As we prepared to go into the field, I had been preoccupied with producing results; reflecting on Bill Mayer's words, I now vowed to rethink this attitude.
Concluding Thoughts
For me, the training in New York was a time of new encounters, insights, and self-discoveries. Over the two months in New York, I came to understand myself better, accept both my good and bad points, and appreciate myself from a broader perspective. Most importantly, I made friends who embraced me for what I am—warts and all—and who gave me honest and constructive feedback without judgment and criticism. This is something I'll treasure for the rest of my life.