October 13,2011
Ambulances for India: (4) India
Activity Report
The first half of January was spent organizing the information I had gathered during visits to each of Dial 1298's local operations in December to define new standard operating procedures for field (ambulance) operations.
The new procedures were being formulated to coincide with the planned March opening of the Punjab center. The company hoped to revise the work of the ambulance drivers and medics and to change the format of the paperwork they're required to fill out. I met with the CEO almost every other day for one-on-one discussions on how to create the best procedures.
In the latter half of January, I also became involved in the selection of an IT vendor for the equipment and software to be used by the ambulances and call center in Punjab. For this project, I was in constant contact with the IT manager, and we reported our progress to the CEO on an almost daily basis.
A new IT system represents a major investment for Dial 1298 and is directly linked to improving the quality of its services and operations, so the decision was a very important and strategic one for the company.
Haste Makes Waste
My approach to tackling various tasks before joining the fellowship program had been to try coming up with all the solutions myself. I often worked alone, feeling that this was more efficient. But this time I made a conscious decision to do things differently.
For example, from my second week here, I decided to look at issues from as many different angles as possible; in addition to consulting closely with the CEO and relying on the information I gathered firsthand through interviews, I consulted with operation managers and the physicians and outside advisers who headed the medical teams. I even contacted acquaintances and former colleagues in Japan for their opinions.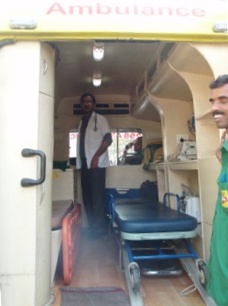 There were days when I couldn't get any paperwork done because I spent the whole day talking to the medical staff and other employees. Working with the IT manager on a short document about the selection of an IT vendor took an entire day. But in the end, the document we produced together was definitely of a higher quality than something I could have written working alone.
I've learned several things from this process. Number one, you never know what ideas people have until you actually talk to them. Number two, in the course of discussing a range of issues, many new ideas and insights arise that none of us were aware of in the beginning. And number three, once people gain an understanding of your intentions, a sense of trust grows; indeed, after a while, the local staff started approaching me with requests.
This, though, was nothing new; I had experienced more or less the same thing in Japan whenever I came to a new workplace or met new coworkers. One difference, though, was that conversations in India tended to be much longer!
In an Indian company whose operations are highly compartmentalized, I think it's important to let the conversations flow, as I mentioned above, so that thinking on various issues can be shared with colleagues. A phone call is better than email, and a face-to-face meeting is even better. I learned over the course of the past month that it's often more effective to consult with others first and hear what they have to say before sitting down with an idea and thinking it through on my own. I was beginning to get a grasp on the pace of communication here.
Ownership
Two months have passed since I arrived in India. I've now been here longer than I was in New York (which is hard to believe, since my time in New York was so intensive). But I still felt like a newcomer, an outsider, at Dial 1298. I wondered why and realized it was probably because I thought of myself as an outsider.
At Dial 1298, I was on a limited-time field assignment from Acumen. I thus unconsciously maintained a certain distance with the local workers. As soon as I became aware of this, I decided to commit myself 100% to this work and this company, even though I was only going to be here for a limited time. After this change of heart, I really could feel the distance with my coworkers melt away, and my work became easier as a result.
Stepping Back for a Broader Perspective
January was a very busy month for me. Acumen's India Office moved to Mumbai, and I had a chance to meet Acumen CEO Jacqueline Novogratz and Global Fellows Manager Blair Miller when they were in town to interview final candidates for the fellowship program; and Mari Suzuki, a program officer at the Tokyo Foundation, also came to visit me. These meetings enabled me to take a step back from the day-to-day operations at Dial 1298 and to approach my situation from a fresh perspective.
My involvement with Dial 1298 has been much busier than anticipated, and I've been almost constantly buried in work since early January (with just one day off a week). I've been so preoccupied addressing the immediate tasks before me that I haven't had time to think deeply about things like leadership, social entrepreneurship, and impact investment.
I'm here to contribute to Dial 1298, and it's good to know that I've been of some use. But at the same time, unless I'm very careful, I could wind up focusing my energies on things I'm already good at. Rather than immerse myself in my daily responsibilities, I hope to use this yearlong program for self-improvement from the vantage point of leadership.
I have one suggestion for Acumen: It might be a good idea if fellows were given an opportunity to talk with local leaders early in their field assignments. This, I feel, could change their perspective in some important ways. We were able to converse intimately with leaders from so many different fields during our training in New York. Something similar during our field assignments could be very helpful.
Being 100% immersed in the field for nine months is definitely a valuable experience, but I wonder if it's really the best way to cultivate leadership skills. Different fellows may have different needs, though, so I can't really say I speak for everyone. I think I'll come back to this question after spending a little more time in India.