July 31,2014
Recycling and Economic Growth in China's Interior
A potential solution to China's environmental woes may be the development of "venous" industries that retrieve secondary materials for reuse by the "arterial" sector in a circular economy. Research Fellow Kenji Someno visited recycling facilities in the fast-growing inland regions of China to learn of the progress being made to formalize what had until quite recently been marginal aspects of the Chinese economy.
* * *
In many Asian countries, an economy is considered to consist not only of "arterial industries" that produce and market goods for the formal market but also secondary "venous industries" that recover used or discarded products, components, and materials—which in themselves have little or no market value—and turn them back into reusable resources.
Creating a Circular Economy
The two are intimately related, with changes in the former having an impact on the latter. Economic growth in China has proceeded at breakneck pace, before measures to deal with its environmental fallout could be put in place. Such headlong development is one reason for the serious air, water, and soil pollution that China has been experiencing in recent years. Said another way, rampant pollution is a telltale sign that venous industries in China have remained largely undeveloped compared to arterial ones.
Until quite recently China's venous activities remained at the most basic level, being largely restricted to the production of fertilizer from human and animal waste and straw from the stalks of rice plants in rural communities. Even arterial supplies were unstable until the rationing system administered by the All-China Federation of Supply and Marketing Cooperatives and other firms was abolished in the early 1990s. Most venous initiatives used the same distribution channels as arterial ones, only in reverse. So the All-China Federation of Supply and Marketing Cooperatives was responsible both for providing materials and commodities and recovering the used and waste products after consumption.
From the early 1990s, the rapid development of the arterial economy resulted in venous resources of all kinds, including discarded household appliances and electronic devices, scrap metal, and waste plastics. What was done with these materials? Because China lacked the technology, information, and social systems for recycling, the informal sector comprising farmers and other small-scale operators who had previously recycled things like straw, cans, and bottles now took to recycling the new materials in the same way, working by hand, with little thought for minimizing pollution. Such an unsophisticated approach caused few problems in the past, but when they began handling appliances containing heavy metals and chemicals—piling them up in vacant lots, dismantling them haphazardly, and using toxic solutions to extract components—the result was serious environmental pollution.
Priority on Securing Resources
In Japan, social frameworks for waste disposal were already well developed by the Edo Period (1603–1868). This was partly for hygienic reasons, given the country's hot and humid climate. Not long after the country adopted a modern legal system, the Meiji government enacted the Waste Sanitation Law in 1900. Thus the basic systems, infrastructure, and human resources to support the venous economy were already in place by the early stages of Japan's modernization, and the country was comparatively well prepared to cope with the large volumes of industrial waste generated as the arterial economy flourished during the postwar, high-growth years. For the most part, Japan's venous industries have developed in step with the growth of the country's arterial sector.
China, too, has begun waking up to the need to create a recycling-oriented, circular economy, similar to the initiatives being advanced in countries like Germany and Japan, particularly since the turn of the millennium with the spectacular growth of its arterial industries. China, though, has been driven less by concerns about the environment than the desire to secure resources, and it sees venous companies as the leading players in an environmental sector that is expected to drive China's economic growth in the years to come.
One manifestation of this policy has been the development of urban mining. In May 2010 China's National Development and Reform Commission and the Ministry of Finance announced a plan to develop pilot urban mining facilities in 30 cities within five years—with financial assistance being provided by the central and regional governments—to obtain reusable resources from junked electrical and electronic appliances. Seven newly developed industrial parks were identified as the first group of such facilities: Tianying Recycling Economic Park in Jieshou, Anhui; Ziya Circular Economy Industrial Park in Tianjin; Jintian Industrial Park in Ningbo, Zhejiang; Miluo Industrial Park in Hunan; Huaqing Circular Economy Park in Qingyan, Guangdong; Jinmai Industrial Park in Qingdao; and the Southwest Resource Recycling Industrial Park in Sichuan. The target is for the seven to recycle 1.9 million tons of copper, 800,000 tons of aluminum, 350,000 tons of lead, and 1.8 million tons of plastic by 2015. Another 15 sites have already been earmarked for phase two of the urban mining initiative.
Changes in the Interior
Industrial zones to reclaim materials from industrial waste have been developed since around 2000, in advance of the pilot urban mining facilities. One Japanese city that has been cooperating with these efforts, notably in Tianjin and Qingdao, is Kitakyushu, famous for its "Eco-town" recycling project. China is also advancing circular economy projects in Ziya, Tianjin; Caofeidian, Tangshan, and Zhuanghe, Dalian, and has proposed the joint development of these parks with Japan and South Korea. In addition to these government-led developments, there are a number of informal-sector initiatives that are now recycling substantial amounts of e-waste, such as in the Guiyuzhen district of Shantou, Guangdong.
These recycling efforts are all along the coast, which may be inevitable given that venous industries spring up in areas of vigorous arterial activity. But in recent years, as the pace of economic growth has begun to slow in China's coastal cities, there are increasing hopes of growth and development in the western part of the country. The table below compares the gross regional products of the coastal and inland regions over a five-year period from 2008 to 2012. The country as a whole grew by 163% over the period, with only Tianjin and Jiangsu outperforming the average among the coastal cities. All six provincial-level inland cities, by contrast, grew by 180% or more. It has been argued that the scale of production is much smaller in the inland areas and that most of the growth in these regions has come from public works spending. The growth figures should thus be read with a grain of salt, but they do reflect the government's strong will to develop the western part of the country and indicate that these efforts are achieving a degree of success.
Gross Regional Product of Major Coastal and Inland Cities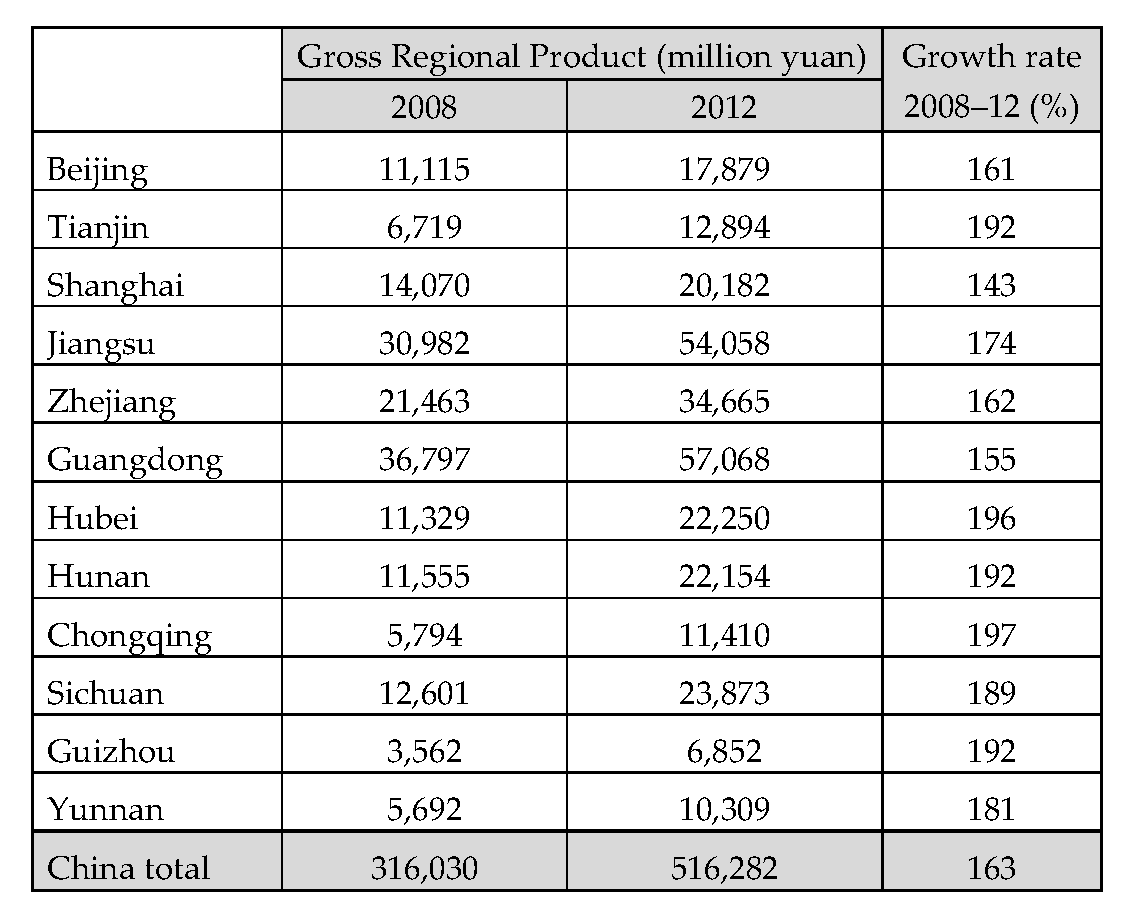 As I have noted, the development of the venous economy follows that of the arterial economy. If this proposition is correct, there should be nascent signs of an emerging venous sector in western China. To get a firsthand look I visited the Niupengzi district of Neijiang, Sichuan, where the Southwest Resource Recycling Industrial Park is being developed.
Old and New Ways of Recycling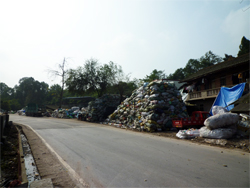 Neijiang is a major distribution hub in southwestern China, a city of some 4.3 million located 150 km from Chengdu, the provincial capital, and 140 km west of Chongqing. The new recycling park is being built in Niupengzi, a village some 10 km from central Neijiang. Driving along Route 321—the main road running through Niupengzi—one notices stacks of junk piled up outside of people's homes. This continues for several kilometers: there are mounds of trash and waste materials of every kind, from dust-coated TV sets and refrigerators to piles of scrap metal and plastic. The answer to this riddle was that for more than 30 years, this was the site of the Neijiang Refuse Collection and Recycling Market, the largest of its kind in the southwest.
The market specializes in plastic waste, of which it handles more than 600,000 tons—worth over 5 billion yuan (approximately US$8 million)—a year, or one third of the national total. I stepped out of the car and spoke with an elderly woman by the roadside, asking her how long this town has looked this way. She told me that the amount of refuse flowing into the region suddenly began to grow in the early 1990s, around the time that economic growth started to accelerate as a result of Beijing's reform policies.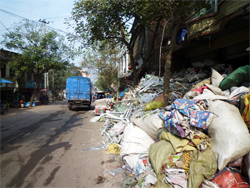 In front of the house across the street was a heap of waste vinyl. In the courtyard inside, three elderly men were using machines that looked as old as they were to crush and clean the discarded material. The workplace was the epitome of small-scale manual labor—a cottage-industry approach to recycling. There were no facilities to treat the wastewater, which seemed to be simply flowing into the gutter.
A similar approach to recycling can be seen in the Guiyuzhen district of Shantou, Guangdong, but because the e-waste they handle poses a much higher threat of contamination, this method has resulted in serious pollution problems. Local children have been found with high levels of mercury in their blood. By comparison, the situation in Niupengzi seems less threatening, since the bulk of the work involves recycling plastic. Being on the coast, moreover, Guiyuzheng also recycles imported products from Japan, Europe, and the Americas, while Niupengzi mostly processes materials trucked in from Chengdu and other cities in the country's southwest.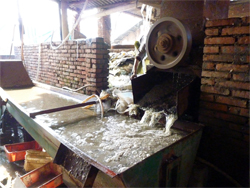 As I walked around Niupengzi I came across typically Chinese scenes of people sitting in front of their houses playing mahjong or cards. Almost everyone, though, was elderly. A donkey loaded with bricks ambled slowly to a site where a new house was being built. Except for the occasional traffic jam caused by the trucks bringing in new waste, there was none of the bustle one might expect in a market doing 5 billion yuan of business each year.
The Sichuan Recycling Park
I continued down the national highway past yet more piles of scrap until I came to a T-junction where I turned off onto a smaller road. I was immediately greeted by a sight quite different from anything I had seen in Niupengzi. In front of me were lines of spanking new cafeterias and shops, with crowds of busy-looking young people in work clothes on the street. At the end of the road was an immense complex: the Sichuan Southwest Resource Recycling Industrial Park.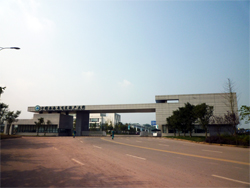 On September 22, 2008, the Neijiang municipal government and China Recycling Development Co., the largest resource recycling company in the country, reached agreement on the construction of the Southwest Recycling base, and on November 14 they signed a contract calling for an initial investment of 3.4 billion yuan to develop a recycling park spanning 3.3 square kilometers to function as the core facility for the recycling base.
The base is a colossal project that will make it the largest recycling center in the southwest, comprising a market covering some 53.3 km 2 and another area for the deep processing of recycled resources covering 26.7 km 2 . The core recycling park is being built in three phases over five years and is scheduled for completion in 2015. The first phase focused on an area covering 53 hectares and investment of 912 million yuan to develop facilities for retrieving and sorting scrap materials, trading, processing, distribution and shipping, anti-pollution measures, waste management training, scientific and technological research and development, and public services. Phase two involved the construction of a 26.5 ha deep processing area at a cost of 515 million yuan. And phase three, covering 253 ha and costing 2 billion yuan, will expand the park's resource-retrieval and deep-processing capabilities.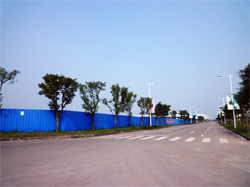 While China Recycling Development, which is developing the site, is not one of the 113 state enterprises belonging to the State-owned Assets Supervision and Administration Commission of the State Council, it is nevertheless China's top recycling company that was founded with State Council backing in May 1989.
In addition to its facilities in Neijiang, the company has bases all over the country, including Qingyuan, Guangdong Province; Luoyang, Henan Province; Changzhou, Jiangsu Province; Linyi, Shandong Province; Lingwu, Yinchuan in the Ningxia Hui Autonomous Region; Tangshan, Hebei Province; Xian, Shaanxi Province; and facilities in Heilongjiang and Jiangxi Provinces.
There are other major recycling firms in China, but most of these operate in only one or at most a few provinces. One reason is the difficulty of obtaining recycling permits, which are issued on a provincial basis and only in small numbers. The fact that CRD has been able to expand its operations nationwide is proof that it has full state approval.
The first phase of construction at the Sichuan Recycling Park began on October 18, 2009. At the time, Tang Limin, the Communist Party chairman for Neijiang, announced that with this project, "We will bid farewell to our history of ill-disciplined development, characterized by high pollution and minimal added value, and move onto the stage of specialized, concentrated, industrial management development." On March 9, 2011, the Neijiang government and CRD signed an investment agreement in Beijing for the second phase of the project. First phase construction was completed on June 5 that year, and the park officially opened for operations, as 120 companies moved in. Work subsequently began on phase two.
When the project was launched in 2009, there were 1,142 recycling companies in the area, employing 7,344 people and processing some1.5 million tons of waste plastic and other materials a year. The local market, as mentioned above, was worth around 5 billion yuan a year. Because the work was done almost entirely by small companies in the informal sector, though, tax revenue was limited, and pollution was a serious problem. Neijiang no doubt hoped to formalize the sector by inviting one of China's leading companies to the city. Plans call for the recycling park in Niupengzi to recycle 1.85 million tons of resources a year from 2 million electrical and electronic devices and 50,000 scrapped automobiles. This, it is hoped, should generate sales of 10 billion yuan and profits of 200 million yuan, creating 1.9 billion yuan in tax revenue and jobs for 20,000 people.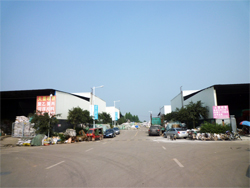 As I drove into the recycling park I saw an impressive row of buildings on the left. Belonging to the CRD, they were offices, recycling facilities, and storehouses for venous resources. This was a modern, large-scale facility that was worlds apart from the village's small-scale cottage industries.
Moving further into the site and turning to the right, I came across neatly segmented yards of various recycling firms. Seeing this I understood the reason for the lack of activity in the village—most venous businesses with any financial clout had already moved in to the park, leaving only the smallest businesses operating outside. Those that had moved into the park, though, were not recycling the waste materials themselves but taking them to the adjacent CRD facilities or selling them to other recycling companies. This arrangement has enabled local workers to keep their jobs while preventing environmental contamination by transferring the actual task of recycling to companies in the formal sector.
A Win-Win Situation?
In summer 2012 I visited Yutian County in the city of Tangshan, site of another CRD factory. Like Niupengzi, this had been a major collection point for used plastic and tires where local farmers living around the factory undertook recycling on an informal basis. The factory manager told me that CRD was persuading these part-time recyclers to focus on collection and leave the task of recycling to CRD to prevent contamination. I was also told that CRD had initiated a training program with a view to employing local farmers to work at its factory.
The Niupengzi project is adopting a similar approach. Inasmuch as the collection of materials is one of the most important things for the venous economy, CRD no doubt wished to tap Niupengzi's track record as a collection hub for waste plastic in setting up its recycling park there.
For the municipal government, too, the project has such benefits as helping to sustain and expand the local economy, boost tax revenue, and conserve the environment. As the project is the only urban mining base in Sichuan Province, support has been coming from the provincial government as well. In March 2010 the Sichuan Development and Reform Commission named CRD a model enterprise for the development of a circular economy in Sichuan, and in August the same year, the Sichuan government issued the company a recycling permit for the appliances collected under a national subsidy program to encourage replacement buying for aging appliances. As a company with state backing, CRD is supported at the local level as well through the issuance of permits and licenses. It has consequently seen its profits rise, while regional governments have benefitted from a boost in tax revenue and job opportunities, as well as a cleaner environment.
It looks like an obvious win-win situation.
If there is a fly in the ointment, it is the fact that despite all the advantages it receives through preferential government policies, CRD's sales for the year ended October 2010 was just 375.97 million yuan. And although the company paid 63.34 million yuan in value-added taxes that year, at the same time the national government paid 77.22 million yuan in subsidies to the Sichuan Southwest Renewable Resources Industrial Park project.
As a general rule, it is difficult for companies in the venous economy to make a profit from the sale of recycled materials alone, so they need to obtain income from supplementary sources. In Japan, this might be the fee charged for the disposal of industrial waste, while in China it may be subsidies like those currently provided for the recycling of household appliances. For companies in the formal sector that can be expected to undertake recycling with due consideration for the environment, profits in the markets where informal operations remain are likely to be quite low. The elimination of the informal sector is thus of primary importance, not only for reasons of environmental protection but in order to ensure the sustainability of companies in the venous sector.
The third phase of construction on the Southwest Resource Recycling Industrial Park calls for investment on a scale far beyond that required for the first two phases. This raises questions about whether such investments are warranted considering the low anticipated income. Arterial industries, meanwhile, are continuing to grow in western China; in June 2012 the Sichuan branch of CRD signed a cooperation agreement with Korea's SK Group and Suning Appliance, a Chinese electronics retailer. How confident, though, are local governments and CRD itself that the venous economy will see corresponding growth? This is a question that will bear close watching.