In the wake of historic efforts to place the Sino-American relationship on a new and cooperative footing, Bonji Ohara examines the repercussions of stepped-up transpacific dialogue for Tokyo.
* * *
The June 7–8 summit between US President Barack Obama and China's President Xi Jinping was extraordinary in a number of ways. It was extraordinary for a Chinese head of state to visit the United States within three months of taking office. It was also extraordinary for an American president to accommodate his Chinese counterpart by traveling all the way to California and entertaining him at the historic Sunnylands presidential retreat, following the Chinese leader's tour of Latin America. Another extraordinary feature of the summit was its length: According to most reports, the two leaders spent about eight hours conversing intimately over the course of two days.
Japanese media coverage generally highlighted the two leaders' commitment to cooperate on cyber-security and the denuclearization of North Korea, but to my mind the summit's larger significance lies in the apparent determination of both leaders to begin forging "a new type of major-power relationship," in the words of Xi Jinping.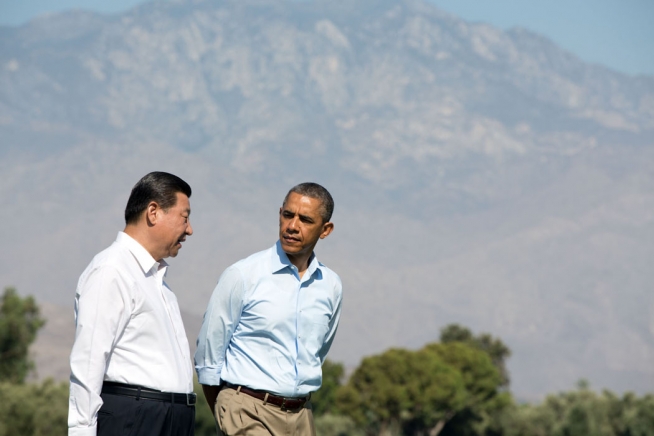 The talks testified to a commitment on both sides to transcend the power-balance politics of the Cold War and forge a relationship grounded in cooperation—lingering differences notwithstanding. Obama assured Xi that it was "very much in the interest of the United States for China to continue its peaceful rise," [1] while Xi repeated his statement that there was enough space in the "vast Pacific Ocean . . . to accommodate the development of the two great powers in the world, namely China and the United States." [2]
In their statements to the press, both leaders called for a "new model" of relations between major powers. [3] Obama, though, has since cautiously avoided echoing Xi's characterization of the US-China relationship by also using such phrases as "new type" and "new level," indicating that Washington did not wish to ascribe specific meaning to the term "new model." Be that as it may, the length of time the two leaders spent with one another testifies not only to the magnitude of the issues dividing the two governments but also to their sincere determination to overcome the distrust that has grown up as a result of those differences. How did this historic change in attitude come about?
China's Initiative
The reference to a "new model" of relations originates in a concept first introduced by Xi Jinping while he was still vice-president. Visiting the United States in February 2012, Xi gave a speech advocating "a new type of major-power relationship." His call was reiterated by then President Hu Jintao the following May, during the fourth round of the US-China Strategic and Economic Dialogue in Beijing. In June that year, President Obama himself echoed the idea after his meeting with Hu on the sidelines of the G20 Summit in Mexico, commenting that the two leaders had been able to "really create a new model for practical and constructive and comprehensive relations between our two countries."
A year later, Obama and Xi met in California with the aim of sharing their visions on how to "forge a new model of cooperation between countries," as Obama put it. Two decades after President Jiang Zemin sought to usher in a new era of bilateral relations, circumstances had finally convinced both governments of the need for action.
During talks with US Secretary of State John Kerry in Beijing on April 13 this year, President Xi referred to a recent telephone conversation in which he and President Obama had agreed to seek a path for bilateral cooperation and a new model of major-power relations. This suggests that the Chinese government had reached out to Washington around this time, and that Washington had responded favorably.
In fact, although the Western media reported that the main purpose of Secretary of State Kerry's visit was to discuss North Korea's development of nuclear weapons, the website of China's Ministry of Defense stated that the aim was "to join with China in seeking a way to forge a new type of major-power relationship, and in addition to discuss such priority issues as the situation on the Korean Peninsula, territorial issues in the Asia-Pacific region, the political situation in Syria, the Iranian crisis, bilateral trade relations, and cyber-security." [4]
In other words, by the official Chinese account, the purpose of the secretary of state's visit was to rebuild US-China relations, and this was the central focus of discussions between Kerry and President Xi, Premier Li Keqiang, and Foreign Minister Wang Yi. All of this supports the notion that the June summit was the outcome of a Chinese initiative.
Changing Circumstances
Referring to the June summit on July 10, at the opening session of the fifth US-China Strategic and Economic Dialogue, Vice-Premier Wang Yang cited a Chinese proverb that translates, "a cornered rabbit will kick out at an eagle." According to Wang, President Xi mentioned the proverb during talks with Obama to make the point that dire circumstances may force one to discover previously hidden resources. The implication is that the Chinese initiative to rebuild the bilateral relationship was driven by a sense of alarm over changing circumstances. [5]
What those circumstances were can be gathered from the content of the white paper on defense that the Chinese government released on April 16 this year, shortly after Kerry's visit to Beijing. Under the heading "New Situation, New Challenges, and New Mission," the report notes that "the US is adjusting its Asia-Pacific security strategy, and the regional landscape is undergoing profound changes." [6] In the same context, the white paper notes that "some neighboring countries are complicating or exacerbating the situation in relation to issues of territorial sovereignty and maritime rights"—presumably as a result of the US shift—and it refers explicitly to Japan and the Senkaku Islands. The core message is that the Obama administration's strategic "rebalancing" toward the Asia-Pacific region is bringing about worrisome changes in China's security environment. It seems reasonable to conclude from this that security concerns were behind Beijing's initiative to rebuild US-China relations.
But what impelled the United States to respond to China's overtures at this time?
The Chinese Defense Ministry's list of "additional" topics covered during Kerry's visit offers some clues. Topping the list is "the situation on the Korean Peninsula"—that is, North Korea's nuclear weapons program, a matter on which Washington has been seeking Beijing's cooperation for some time.
Second on the list is "territorial issues in the Asia-Pacific region," which include disputes with the potential to trigger a clash between US and Chinese forces in the East and South China Seas—something Washington is no less anxious to avoid than Beijing. Syria, Iran, trade relations, and cyber-security are other areas in which the United States is eager to secure China's cooperation. In short, a confluence of international circumstances made the time ripe for a rapprochement between Washington and Beijing.
Japan's Role
Unfortunately, this period of US-China rapprochement also marked a downturn in relations between China and Japan. In fact, President Xi Jinping's first clear articulation of a hard-line stance toward Japan coincided closely with Kerry's visit to Beijing. Of course, the downward spiral in Japan-China ties began last year, after the Japanese government purchased three of the Senkaku Islands, triggering anti-Japanese rioting and demonstrations in China. But by early this year, Beijing appeared to be looking for a way to defuse tensions.
Meeting with New Komeito leader Natsuo Yamaguchi on January 25 in Beijing, Xi Jinping was reported as saying that he desired friendlier ties between China and Japan. He also said that his government would consider the possibility of high-level discussions and stressed that active measures were needed to create an atmosphere conducive to such dialogue. [7] Visits by former Prime Ministers Yukio Hatoyama and Tomiichi Murayama around the same time were reported with much fanfare in China. These developments indicated that the Chinese government was working to cultivate a climate of public opinion favorable to a bilateral summit.
On March 31, Li Xiaolin, president of the Chinese People's Association for Friendship with Foreign Countries, visited Japan as an emissary of President Xi, presumably to gauge Prime Minister Shintaro Abe's interest in improving relations with Beijing. [8] It was around this time that the tenor of Xi Jinping's pronouncements on Japan began to change. According to one Chinese government source, the government decided that "China can do nothing more in terms of reaching out to Japan as long as Prime Minister Abe continues to behave as if he held all the cards."
It could be that China stepped up its overtures to the United States after reaching the conclusion that circumstances were not conducive to a Japan-China summit, and that a reconciliation with Japan was not in the offing. In the absence of any clear prospects for a thaw in relations with Tokyo, Beijing may have initiated a rapprochement with Washington to reduce the risk of a military clash.
The United States is just as anxious to avoid a confrontation with China. On April 21, Chairman of the Joint Chiefs of Staff Martin Dempsey visited China at the invitation of Fang Fenghui, chief of the General Staff of the People's Liberation Army. He was treated with lavish hospitality, just as Kerry was, and conferred with President Xi as well as General Fang. While Japanese media reported that the discussions dealt with "regional security issues," a Chinese government source indicated that they dealt more specifically with "how to avoid a war between Japan, the United States, and China." Needless to say, the Senkaku Islands dispute would have been at the center of any such discussion. It would appear that the sharp deterioration in Japan-China relations has begun to cause genuine concern in Washington.
This past July, US Vice President Joe Biden stressed the impact of US-China relations on global affairs in his remarks at the opening session of the US-China Strategic and Economic Dialogue, stating, "The dynamic that emerges between our nations will affect not just our peoples, but . . . have a significant impact on the entire world. . . . Our relationship is and will continue to be a mix of competition and cooperation. And competition can be good for both of us, and cooperation is essential." [9] Many international issues contributed to the recent rapprochement between Washington and Beijing, and one of them was doubtless the deterioration in Japan-China ties.
China-Korea Summit
On June 27, President Xi Jinping and South Korean President Park Geun-hye met for talks in Beijing. Their discussion touched on the issue of historical revisionism in Japan, and their joint statement, while avoiding explicit mention of Japan, contained implicit criticism. [10] South Korea has made previous attempts to strengthen ties with China, primarily for economic reasons, but until now Beijing has shown no great enthusiasm. No doubt the need to build friendships in East Asia has become more pressing for the Chinese since relations with Japan took a turn for the worse.
From this perspective, it seems fair to say that the worsening of Japan-China relations has helped drive China closer to both the United States and South Korea. But the impact does not stop there. In recent months, China has become a more potent presence than ever throughout the international community. As long as the unhealthy state of Japan-China relations persists, Japan must be prepared for the possibility of global political shifts that undermine our own long-term interests.
1. http://www.whitehouse.gov/the-press-office/2013/06/07/remarks-president-obama-and-president-xi-jinping-peoples-republic-china-
2. http://news.xinhuanet.com/english/china/2013-06/08/c_132440622.htm
3. http://www.whitehouse.gov/the-press-office/2013/06/08/remarks-president-obama-and-president-xi-jinping-peoples-republic-china-
4. http://news.mod.gov.cn/headlines/2013-04/13/content_4442311.htm
5. http://www.state.gov/secretary/remarks/2013/07/211773.htm
6. http://news.xinhuanet.com/english/china/2013-04/16/c_132312681.htm
7. http://www.asahi.com/politics/update/0125/TKY201301250081.html?ref=reca
8. See, for example, http://big5.ifeng.com/gate/big5/news.ifeng.com/mainland/special/diaoyudaozhengduan/content-3/detail_2013_03/28/23606849_0.shtml?_from_ralated and http://news.wenweipo.com/2013/04/01/IN1304010031.htm .
9. http://editorials.voa.gov/content/biden-on-us-china-dialogue/1712598.html
10. http://www.nikkei.com/article/DGXNASFS0504H_V00C13A7PP8000/