April 09,2009
Charity Alone Is Not the Answer to Poverty: The New Paradigm of the Acumen Fund
The Tokyo Foundation has entered into a partnership with the Acumen Fund and is supporting its program to nurture future leaders. Acumen is taking an innovative method to address the issue of poverty in developing nations. What kind of accomplishments has its key concept of "patient capital" made in India?
There is an organization taking an innovative method to address the issue of poverty in developing nations. This is the Acumen Fund (hereafter referred to as Acumen), a not-for-profit organization based in New York. Acumen is managing a venture fund for social cause and currently working to tackle poverty in India, Pakistan, Kenya, and Tanzania through a business-oriented approach. The Tokyo Foundation identifies with Acumen's vision and its program for development of human resources, and has entered into a partnership with them. I recently had the opportunity to visit India, and was able to observe Acumen's local activities. Their activities are thought provoking—not only for developing nations but Japan as well. Introduced here are the concepts of Acumen and the activities conducted in India.
The Key Is "Patient Capital"
Acumen believes that charity alone is not the solution to the issue of poverty. From a long-term perspective, rather than helping the poor become self-sufficient, charity can often generate dependence. Meanwhile, poverty is an issue difficult to resolve through market approach alone; the reason for this being that poor people who are unable to even pay for basic social services such as water, housing, or healthcare cannot be considered as targets for investment. Against this backdrop, Acumen is striving to provide an answer to the eradication of poverty based on a new paradigm.
The key to Acumen's initiatives lies in what they call "patient capital." The word "patient" is used here to mean that Acumen and its fund investors will wait patiently for their investees to grow without expecting quick returns. Acumen has built up a model to achieve not only financial returns but social returns by investing in enterprises that provide basic social services (health, housing, water, energy) at low costs to those who have been ignored as a market due to their poverty. In addition to capital, Acumen also believes in investing in talent, thereby creating a combination of strong human and financial assets that can help their portfolio enterprises achieve scale.
Through this scheme the poor are in a better position to shake off their dependence and gain a sense of self-respect and dignity. In addition, by reinvesting the profits generated from Acumen's patient capital into other companies or new ventures, capital can also be reinvested. In this way, the poor will gain access to basic social services, and could, at the same time, grow to become a new customer segment. This concept of patient capital will not only benefit India and other developing nations, but could also serve as reference to Japan and other industrialized nations where the problems of poverty and disparities have been erupting as a negative aspect of globalization coupled with the recent financial crisis.
What "Patient Capital" Generates in India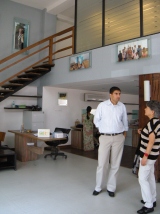 The Acumen office is located in Hyderabad, a city situated on the Deccan Plateau in the center of India. The reason why Acumen selected this area was because of its high quality of life, its hub position for access to other cities, and in addition, the low cost of living. According to its director, Varun Sahni, the spacious and comfortable Acumen office would probably cost several times more if it was located in Delhi or Mumbai. Varun is a 35-year-old father of two originally from Mumbai. He studied at the Columbia University graduate school in New York, and during this time, was engaged in gender issues in Yemen. After graduating, he worked as a consultant at a multinational firm, among others. He has been tackling the issue of poverty for the past 10 years, of which three and a half years have been spent at Acumen.
Contributions totaling 85 million dollars constitute the financial source for Acumen's activities. This capital is based on seed money from the Rockefeller Foundation, Cisco Systems Foundation, and others, as well as donations from many organizations, corporations, and individuals. Currently, 40 million dollars of this are invested in social businesses, of which 20 million dollars are invested in India. The investment portfolio in India covers a wide spectrum, with investments in 12 companies in the fields of healthcare, agriculture, and energy.
Among these companies is Ziqitza Healthcare, commonly known as 1298. It provides ambulance services and 1298 is their telephone number. This company was launched in Mumbai three years ago. While Mumbai has a population of 16.5 million, there were no reliable ambulance services and a large gap existed between supply and demand. People needing emergency medical care have had to rely on friends with cars or were transported by vehicles that had no facilities for emergency medicine. The situation was even more serious when it came to the poor who lacked the money to pay for such services.
In order to make it possible to provide ambulance services to all people, 1298 created a business model in which payment is determined by the person's ability to pay. Patients who ask to be taken to a private hospital pay a regular fee, but poor people going to a free public hospital do not need to pay for the ambulance. About 20 percent of the users select the free services. Services are provided around the clock, and as many as 40,000 calls have been received annually over the past three years. At the time of the terrorist attack on the Taj Mahal Hotel in Mumbai at the end of last year, the first to arrive at the scene were the ambulances of 1298. This service, which started three years ago with only eight ambulances, is scheduled to have a fleet of 90 ambulances by the end of 2009. The company plans to roll out its business to cities outside Mumbai and is currently establishing a franchising system in the state of Kerala.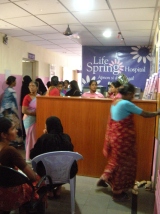 Next is LifeSpring Hospitals, a chain of hospitals that provide inexpensive but high-quality maternal and child healthcare. This was established as a joint venture with a company called Hindustan Latex Limited. Despite India's tremendous development, childbirth is still risky with mortality rates for both mother and child remaining among the highest in the world. Only about 43 percent of women give birth at a hospital under the care of a physician; the rest of the deliveries are conducted at home with the help of a midwife. This situation is reflected in the mortality rates. For people with low incomes, especially those residing in slum areas, LifeSpring Hospitals offer delivery services and vaccinations for the infant at less than one-third of the regular rates. Normal deliveries cost about 40 dollars, which is an all-inclusive rate with no additional charges if it becomes necessary to be hospitalized following the delivery. On top of this, everything is provided free of charge if the patient is unable to pay at all.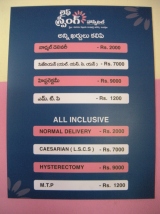 The LifeSpring Hospital located in the suburbs of Hydrabad is a small, three-story building with the lobby on the first floor overflowing with patients together with men who were probably their husbands. The care unit is located on the second floor, and on the third floor is the ward unit with about 25 beds. Currently approximately one-third of the expectant mothers in this area give birth at this hospital. It was interesting to hear that in order to have them come to the hospital rather than giving birth at home in the traditional way, the key would be to convince not the mother-to-be, but the mother-in-law who is the decision-maker in the family. It would seem that marketing abilities are also necessary here. When I inquired about the issue of securing doctors—a problem facing Japan as well—I was told that experienced doctors are paired together with young doctors, and a scheme for costs is also in place. A young doctor asked about his impressions answered, "I am very proud to be working at a hospital like this that benefits everyone."
There are currently six LifeSpring Hospitals, but Acumen plans to increase investments to boost this number to 30 within two years. In the future, they plan to develop a franchising model for LifeSpring Hospitals with the aim to reduce the maternal and child mortality rate by encouraging childbirth at hospitals.
There are still many more companies in Acumen's investment portfolio in India that are worthy of mention. For example, the number of people with chronic ailments is significantly larger among the poor. A vicious cycle emerges from the fact that their symptoms grow increasingly worse since they are unable to receive proper care. Acumen is investing in AyurVAID, a hospital that provides Ayurveda medical care (traditional medicine practiced in India called the "science of life") at low costs to fight chronic illnesses such as diabetes and neuralgia. AyurVAID hospitals have about 15 to 30 beds, and the number of hospitals is scheduled to increase to 50 within the next five years.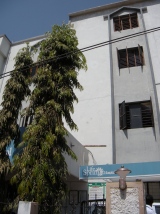 Investments in companies in the field of water include GEWP (Global Easy Water Products). This company provides an affordable and simple system that makes it possible for small-scale farmers to obtain irrigation water. Another company, D. Light Design, offers an inexpensive and safe lamp using LED technology marketed under the Nova series. This can replace the expensive kerosene lamps that have been the only light source available to people in areas without electricity. As can be seen, the services provided through Acumen are extremely fundamental such as healthcare, water, and energy, but up to now these were services that the poor could not access or benefit from. The advantages of the business models developed by Acumen are their possible applications in other regions and, moreover, the fact that the venture can be flexibly scaled to size.
Leadership That Supports Acumen Activities
It goes without saying that these activities by Acumen have been supported and advanced by its founder, Jacqueline Novogratz, and those highly motivated people who gathered under her, inspired by her leadership. Acumen not only draws talented young people from around the world, but also strives to nurture superb leaders. The type of people Acumen seeks are, according to Varun, those who are intelligent, creative, and can work flexibly and effectively in an ambiguous situation. These are the kind of people needed in Japan as it is currently in an extreme state of confusion. The Tokyo Foundation's Scholarship Division decided to partner with Acumen because of our deep empathy with Acumen's visions as well as our strong wish to send people from Japan to participate in this excellent program to nurture talented leaders.
The Acumen Fund Fellows Program lasts for one year. For the first seven weeks, the fellows attend a training course in New York that includes classes where they learn the necessary skills and concepts to operate a business; a liberal arts class where classic literature is read to gain a deep understanding of humanity; and sessions where they can hear prominent business people and former fellows speak. The remaining 10 months are spent in practical training in the field at one of the investment businesses located in South Asia or East Africa. This Acumen program is very highly appraised, with applications arriving from many young people around the world each year. The selection is extremely competitive—only a few people are accepted among the several hundred applicants.
From October 2008 the Tokyo Foundation has been disseminating information through our website and other media to increase awareness in Japan about the Acumen Fund Fellows Program for 2009 – 2010 and encourage applications from Japan. This resulted in 23 people applying from Japan through the Tokyo Foundation. According to Acumen, the total number of applicants for this fiscal year was 350, and currently about 20 finalists are in the final round of selection. Among them is one applicant from Japan. A glimpse of the actual selection process was enough to understand its competitiveness and the high expectations toward fellows . Interviews were, of course, conducted entirely in English. The applicant is questioned about his/her business experience, knowledge, and skills, and is also expected to be able to speak persuasively about his/her aspirations and visions concerning societal activities. This would, with no doubt, present a high hurdle to those who are only familiar with the congenial atmosphere of interviews in Japan. Within such circumstances, it was an extreme pleasure to learn that a Japanese woman has made it to the finals. It would be an outstanding achievement for her to be accepted.
Should she be selected, the Tokyo Foundation most sincerely hopes that she will not only enhance her leadership skills but also stimulate the young people of Japan, who are feeling a sense of helplessness, and become their role model. It would also be wonderful indeed if she could gain valuable hints from the concepts and business models of Acumen and thus contribute to solving the problems facing Japan.